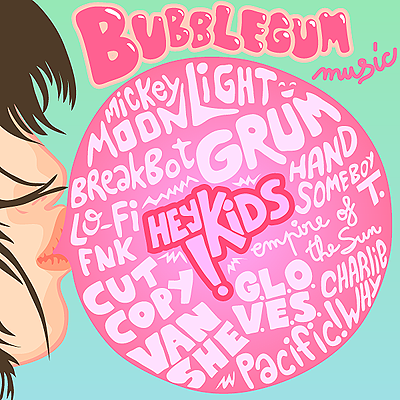 SO, ITS BEEN A WHILE I DIDNT RELEASE A FULL PLAYLIST OF SONGS AT ONCE. JUST WHEN U THOUGHT HEY KIDS WOULD NOT GIVE U SOME NICE XMAS PRESENT, ITS HAPPENING. I WANTED TO RELEASE THIS MUCH EARLIER BUT I HAD TO DELAY IT A FEW TIMES CUZ I LIKE TO DO THINGS RIGHT. U KNOW, SELECT NICE TRACKS, MAKE A COOL COVER ART AND ALL. :)

THIS TIME LOOKS LIKE IM TRYING TO PUT TOGETHER A NEW MUSIC GENRE, YEAH JUST THAT. MAYBE I SHOULD HAVE CALLED IT BUBBLE POP OR GUM POP... BUT THE HELL AM TALKIN ABOUT, JUST DOWNLOAD & ENJOY.

00 - HEY KIDS! - Bubble Gum Intro
01 - Handsomeboy Technique - A Flick Of A Trick
02 - Cut Copy - Feel The Love
03 - p e a c e FIRE - Sapphire (GRUM Edit)
04 - Van She - Changes (G.L.O.V.E.S Remix)
05 - Sneaky Sound System - When We Were Young (Breakbot Remix)
06 - Pacific! - Number One
07 - Mickey Moonlight - Interplanetary Music
08 - Empire Of The Sun - Walking On A Dream
09 - Cicada - Metropolis (The Twelves' B-LIVE Rio Mix)
10 - Charlie Why - Nina
11 - Lykke Li - Everybody But Me (Rocca Remix)
12 - Lo-Fi-Fnk - End

CLICK TRACKS TO DOWNLOAD THEM OR GET THE WHOLE ZIPPED THING HERE.

ANYWAY KIDS, DUNNO IF I WILL MAKE ANOTHER POST BEFORE 2009 SO SEE U NEXT YEAR MAYBE. DONT GROW UP TOO FAST, STAY FRESH & BEST WISHES YO.