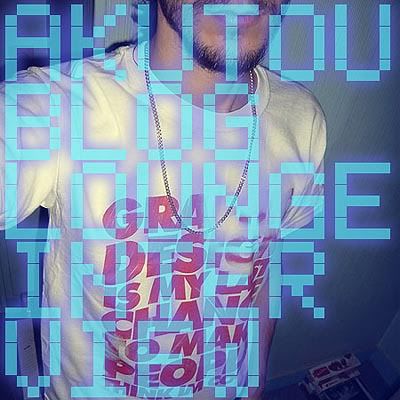 New interview up at Bloglounge. Cool french blog. For those who cant read french, enjoy my crappy translation of the interview:

This young designer from Paris shows all his talent throught vector illustrations since a few monthes: from Death Proof girls to ED Banger's Uffie. Coloured with a preference for bright colors, Akutou remains on track for the on coming weeks...

Hello Akutou, can you introduce yourself?

Hi. I'm a french young designer working as a freelance since 6 monthes now. I'm currently leading several secret societies but I cant talk much about that. I dont want any trouble.

What's your background?

Nothing fancy. I have made boring economic studies. The choice was not mine. I have been oriented that way cause I was not doing mucho as a student. No motivation. No graduation. Which is good cause if I had graduated I would probably be in some more boring school right now doing absolutely nothing. Instead I have been a bum for 2 years then mutated into a graphic designer. Which is pretty cool.


How come, you didnt want to be into design from the begining?

Yes I did. I tried to go into art school before but it never worked out. The subjects of the entrance exams were always awkward and not really interesting. I finally joined an art school later, after I failed graduation in economic class. I stayed there a year then it sort of became uninteresting again so I started focusing on the things I like.


Why ? What did they tell you to do?

I don't know, I just seem not to understand what they were expecting from me all the time. And it was no fun. Then I realized I could work alone at home doing things I like much more. So I stopped school, I started practising at home, it was a bit random I didnt know what will happen… But I thought maybe if I'm active enough on the internet, something might happen. I made me a website. That's how it started.


What was your 1st project? How did you get the 1st jobs?

First works were logos for bands. It's still quite new to me. One of the band, The Remix Artist Collective (RAC), they saw one of their remixes I posted on my blog HEY KIDS ! The next day I got a mail from them where they were asking for a logo. We have a good feeling and I made them 2 covers. One for their 1st official EP called "NINTENDO VS SEGA" and a second one done with J3concepts for their 1st remix album which has been released today at STEREOGUM. Everything is going fine and I should work with the band again in the future. I also worked for Futurecop ! but this time i twas me who contacted them. I asked them if they were interested cause I love their music and I really wanted to do something with them. That's a cool part of the job, you are in relation with other artist you like. It's dope.


Talking about J3concepts, what are your favorite artists?

RA909 is on the top of my list. He's a monster. Great guy, really inspiring. He has great music tastes too, you can feel it in his art. The list is long, J3 for his touch and the ton of work he does, love Jeremyville's drawings, love Simon Noynay's stuff too, these two got a lot of style, I must name SO ME because he's a genious : ED Banger without him would not me as cool. Lately, one of the person I admire the most is Souloff, a chick who makes superb vectors. Too sexy.


The blog is very music oriented, what are you listening to at the moment?

MGMT's album is excellent. Breakbot and The Twelves remixes, I'm a big fan. The last ED REC is not bad. I usually post on the blog all my favourite stuff. The 2 tracks on repeat right now are Ghostface – Charlie Brown (DJ Mehdi Remix feat. Mapei) and Au Revoir Simone - Sad Song (RAC Mix). HEY KIDS! is on Myspace now, come say hello and tell me I'm an awesome guy with amazing music tastes !


Do you have any other projects with music artists ? Who would you want to work with ?

Yeah, there are a few projects. With RAC of course. But also other guys from Myspace. People I would like to work with ? I'm not sure… Miami Horror, Treasure Fingers… anyone I dig. That's a lot of people. But I also have collabs with graphic artists planned for fun : one with J3, one with RA (soon or later lol), one with Souloff… and more. I like to do something else than client stuff. It's a good alternative to work.


I noticed a lot of your artworks are vectors, why this choice?

Not intentional. I'm not the kind of guy who makes plans. I just feel at ease with this technic. I like how it looks, and it's the perfect tool to print tees, logos & Co. Seriously, I love to make vectors. It's perfect for someone like me who is not a beast in traditionnal drawing. Good compromise.


A final world?

I love chinese rolls. I wanna eat chinese rolls right now.